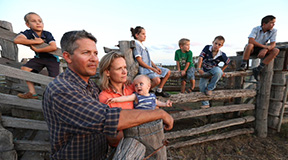 BSA represents landholder, community groups and individuals who are worried about the rapid and unrestrained development of the coal seam gas industry across Queensland.
We are committed to working with industry and government in the hope we can achieve a CSG industry that preserves our groundwater resources, our lifestyle, and our ability to produce food and fibre for future generations.
Science must inform development, impacts must be mitigated, and activities should not proceed where the risk it too high.
We urge our decision makers not to be blinded by the lust for royalties and jobs. The industry cannot proceed 'at any cost'.
Please join with us to support the cause of bringing to the attention of the public at large, and regulators at all levels the issues of protecting prime food producing land and the Great Artesian Basin.
Membership fee: $250
Click here for membership form (PDF)
Direct deposit, fax and address details are outlined on the printable form.
In addition to becoming a member, BSA welcomes donations big and small.
If you'd like to make a donation contact our secretariat office based at BMO on
07 4662 3722.
If you are a business that recognises the importance of ensuring our use of land and water is sustainable for generations to come then please contact BSA to find out how you can sponsor the work we do.
"I've been approached by a CSG company. What do I do now?"
Visit our Landholders page for more information
Use this tool to calculate potential impacts of gasfield development, such as the number of CSG wells that could potentially end up on your land.
Go to the CSG Well Calculator
BSA is proposing to develop a concept called CSG Watch. We liken it to Neighbourhood Watch whereby it is a community network coming together to keep a watchful eye on their own backyard for CSG impacts.
Visit the CSG Watch website